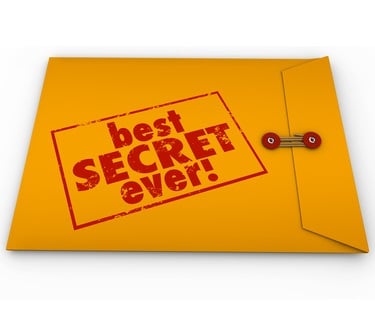 Imagine if there was an effortless solution to sales hiring. That a pipeline of highly accomplished sales professionals landed on your desk. And each candidate was interested in your company's opportunities and happy with the compensation plan, the location, the quota, and the environment. Wouldn't that be great? Well, I wanted to share this best secret with you.
So what's this best kept secret solution of sales hiring?
The secret is….that there is no secret. Sorry, to get your hopes up! But unfortunately, like all other clichés if it sounds too good to be true, it probably is. You can't rely on that ideal candidate's resume falling on your desk every time you are looking to hire. My advice to you is do not fall prey to the illusions of a miraculous event that will save your sales force and help you meet your numbers.
Don't worry though, I'm not building your hopes up and taking them away without offering you the most important critical ingredients that go into mastering a sales hiring solution.
Your must-have ingredients to building your sales team:
Have A Team To Support You
Hiring sales people takes hours, days, weeks and sometimes months. To be successful you must build a strategy that is sustainable. The quicker you recognize that you cannot do this alone, the more successful your strategy will be. Your hiring objectives are as important as your revenue goals and must be made a priority. Think of how much time and effort it takes to find a good prospect. Then think of your sales cycle and what it takes to convert each prospect into an opportunity. Now what will it take to close that client. Expect this same level of complexity while hiring sales talent. You have an entire sales force that helps you meet your revenue goals so expect the same level of support to meet your headcount goals. Hiring costs time and money, so assemble a dedicated team to assist in your search and set aside a budget to support your team's success.
Define Real Qualifications
Look at your sales team and identify what makes them top performers. Then look at their prior experience and don't be surprised if none of them have the same background. It always amazes me how easily hiring managers get lost and lose touch with what really makes their team successful. I very rarely hear that a company has been successful because they only hire top performers from their competitors. That is never the case but along the way sales managers and sales executives somehow get lost and define unrealistic qualifications. This does not work. You may hire one or two people from your competition, but each hire took 12 months to acquire. This is not a good strategy. At this rate you will hire 5 more people in the next 5 years. By then your first two hires will have already left your company. If you want to build for scale find out what makes your top sales representatives so successful. Many times you will find a diamond in the ruff but need a robust pipeline to find talent that will help your company grow.
Keep it Simple
Cut through the complexity of a lengthy and over done interview process. Nothing drives away top talent more than a slow process. Talented sales professionals are focused on closing business and they are driven to produce. A lengthy process, regardless how great your company may be, will turn off the most talented sales representatives. Remember, you may not be the only company trying to hire that candidate and if too much time passes, you will lose out and will have to start over.
Drop the Aristocracy
When it comes to hiring sales professionals, don't be a snob. If your reason for turning down a candidate is based on the University they attended, or their GPA or because the company they work at does not compare to yours, then you may want to reconsider your strategy. Look at your competitors on LinkedIn and see if their sales people had a pedigree before joining their company. Unfortunately, the perfect candidate for your company may not be obvious on a piece of paper. Give sales candidates the opportunity to sell themselves and after a conversation, decide then if they are worth a next step in your hiring process. I am not suggesting that you waste time on candidates that have no relevant experience, but consider not having so tight of a spec that you miss out on your next hire. I recommend keeping an open mind when recruiting and you may be surprised how successful you become.
We interview thousands of Business Development Representatives, Inside Sales Representatives, Enterprise Account Executives, Sales Managers, Vice Presidents of Sales, Chief Revenue Officers and many more per year and every single one of them gets an opportunity somewhere. They all find sales opportunities and many may be with your competition.