If you're looking to grow your business and drive revenue, you need salespeople. And if you're looking to hire salespeople, you need a recruiting strategy. You need to approach your recruiting process the same way you approach your sales process. Recruiting is in fact SALES. You need both activity and metrics. If you rely only on passive and reactive recruiting measures, you will miss the mark.
So where do you start? How do you build a sustainable and scalable recruiting strategy to find, attract, and hire qualified sales candidates?
First things first. To recruit top sales talent you need to understand:
Top sales talent is always in demand
You have to hunt for top producers
Passive job seekers aren't on the job boards and need to be found
Job boards are a reactive approach to sales recruiting
Resumes are not an obvious indicator of an A-player
No time, no money, and no hiring process = no hire or a bad hire
Finding Sales Talent
When you are recruiting for a sales job, you need to be able to define that sales role. If you can't define the title, responsibilities, quota, average deal size, or compensation plan, don't start recruiting. You won't know who you are looking for.
It's also important to build a flexible blueprint of your ideal candidate. Notice how I said flexible there? Your goal is to hire talented and qualified sales candidates, but you need to drive relevant traffic first.
This is important. Keep in mind hiring is not FREE. Yes, I know we are all a sucker for anything that is free, but recruiting sales professionals will cost you both time and money.
Recruiting Metrics that Matter
When you are recruiting, you are building a pipeline. It's all about activity and being able to measure your metrics. Recruiting requires building a pipeline. You want to start with a wide funnel at the top to drive traffic, and as candidates move throughout the recruiting stages, you will only have a few candidates in final stages.
For instance:
How many people do you need to connect with daily?
How many emails do you send?
How many LinkedIn messages do you send?
How many voicemails do you leave?
How many times you follow-up with sales candidates?
How many interviews are in the process?
How many candidates make it to final stages in the process?
All of these metrics are key to building a consistent recruiting process that you can measure, repeat, and sustain.
Engaging Sales Candidates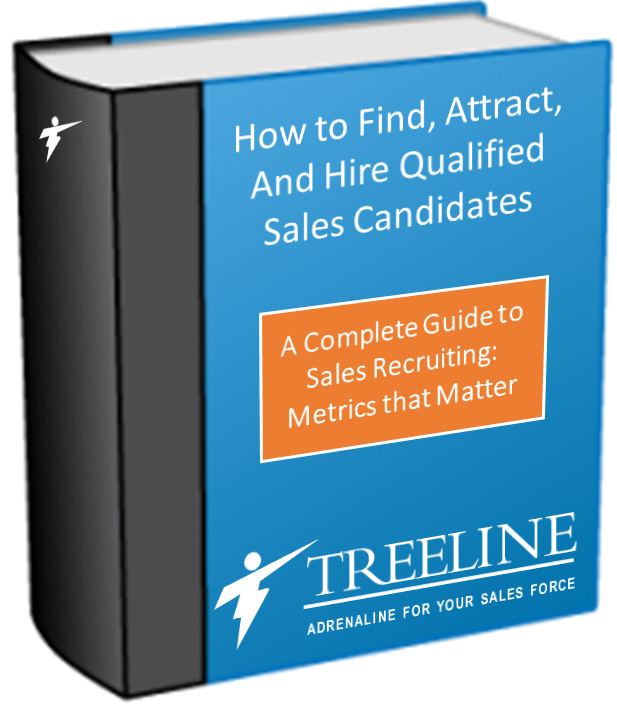 We are all familiar with the saying sell the sizzle, not the steak. I say sell both. In order to engage interested sales candidates, you need to know how to sell your company and opportunity. Be able to talk about the leadership team, direction of the company, the culture, the benefits, and the opportunity for growth. It's important to set accurate expectations around the role and even the hardships, but if you focus too much on the negative sell, you may end up turning off qualified sales candidates.
Recruiting is half the battle, but if you do not have structure around your interview process, you will fail to hire. Remember, "time kills all deals."
You need to understand:
How many steps are involved in the interview process
Who is involved in the hiring process
If there is a background check
How many references do you check
Be mindful of your interview process. If your process is too long or slow, your competition may end up hiring top sales talent before you. Be willing to speed up the process for candidates you like.
Hiring Sales Candidates
When you reach final stages with one or more candidates, you need to be able to close the deal. Just like any sales deal, be able to qualify and re-qualify throughout the process to avoid surprises. For instance, compensation should be in alignment and a candidate shouldn't be declining a job offer in the final hour due to compensation not being discussed prior.
Final stages should look like this:
Gain agreement that this is a good opportunity for both parties
Check references
Extend a verbal offer
Prepare a written offer
Discuss counter offers
It's important to stay engaged with new hires up until the start-date. Make sure they have everything they need to start their first day.
Having a recruiting strategy is the key to successful hiring. Build a recruiting strategy that drives results. Sales recruiting is an activity-driven process that needs to be a priority. Don't leave your recruiting to chance. Hire tops sales talent faster and with more precision.
Share This Story, Choose Your Platform!
Contact Us for a Free Consultation
Tell us more about your business and how we can help.