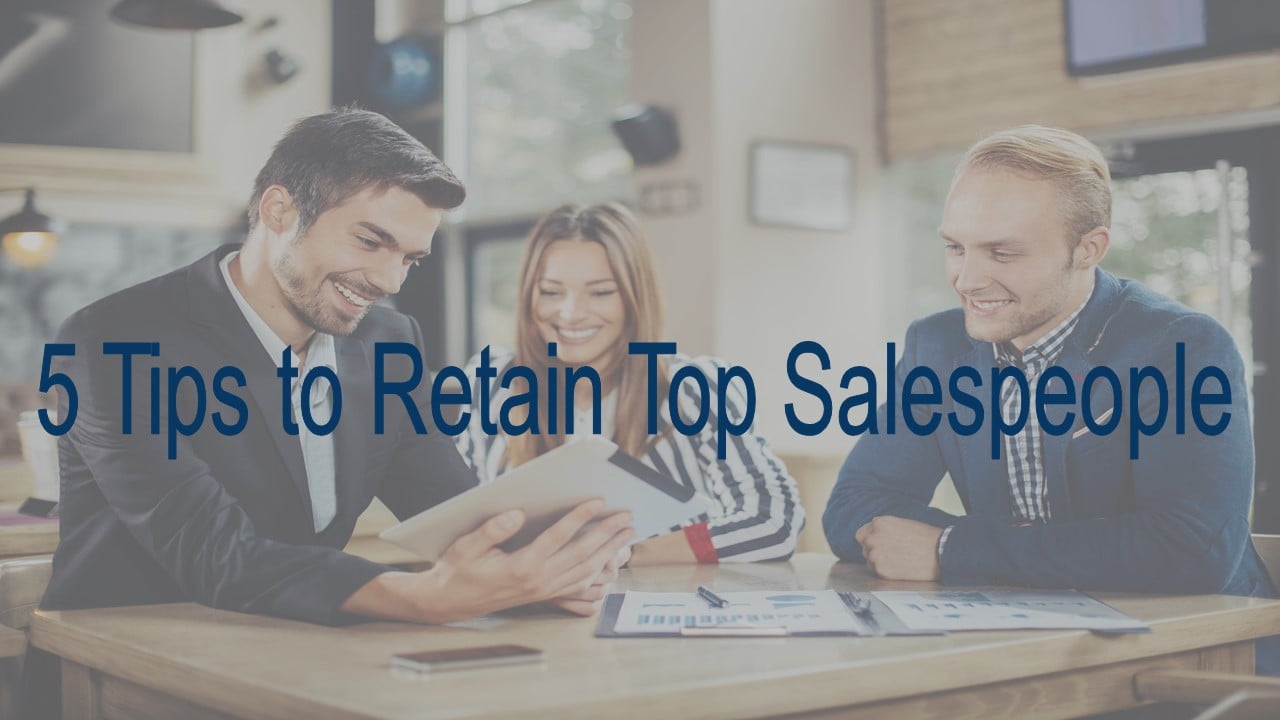 Your salespeople drive revenue. You can't afford to lose top producers. Literally, it will cost you. Employee turnover will cost a company 50-60% of the employee's annual salary. Yikes!
So why do top salespeople leave?
More than 70% of the time, salespeople leave your company because there is a lack of sales management and engagement. A weak or disengaged sales culture will lead to employee turnover.
You need to actively engage your sales team to create a sales culture of success that drives revenue.
Here are 5 tips to retain top salespeople:
Setting attainable quotas and measurable metrics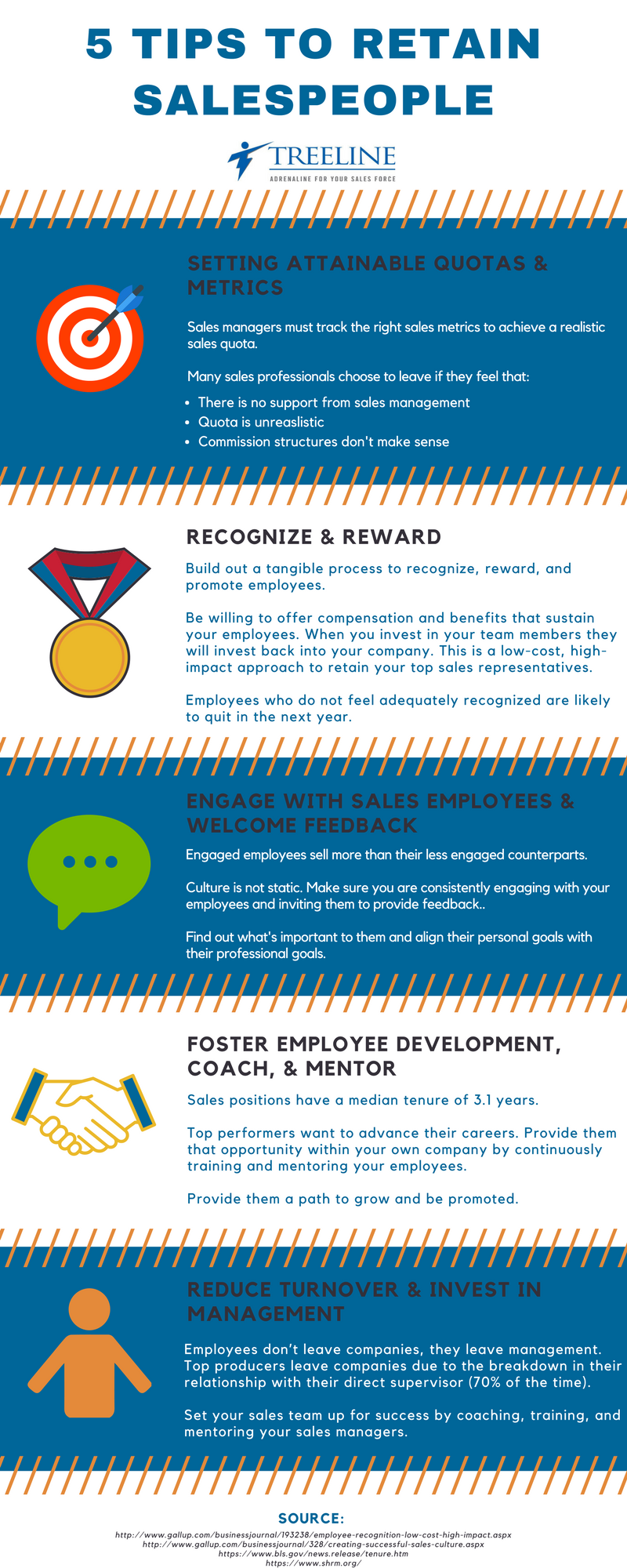 Sales managers must be tracking the right metrics to understand the progress of their sales team. You want to make sure management is measuring sales activity and have real insight into what is working and what the sales team may be struggling with.
Many sales professionals will choose to leave their sales company if they feel that the:
No support from sales managers

Quota is unrealistic

Commission structures don't make sense
You want to make sure you are providing your sales team with the right tools to achieve their goals. You should work with them to put together a plan on how they plan to meet their quota.
Recognize and reward
Build out a tangible process to recognize, reward, and promote employees. Be willing to offer compensation and benefits that sustain your employees. When you invest in your team members they will invest back into your company. This is a low-cost, high-impact approach to retain your top sales representatives. 
8 tips to recognize hard work and achievement:
Public recognition with a certificate or commendation

Private recognition from a manager or CEO

Peer-to-peer recognition

Praise from a customer

Receiving high level of achievement through evaluations or reviews

Promotion or increase scope of responsibility

Monetary awards (raise, trip, prize)

Time off (half day, full day, extra PTO hours, work from home)
Engage with sales employees and welcome feedback
Culture is not static. Make sure you are consistently engaging with your employees and inviting them to provide feedback. As you continue to grow the company and add additional sales professionals to your team, you must repeat steps 1 and 2 to build a sales culture of success. Make sure engagement aligns with company objectives and revenue goals.
Engaged employees sell more than their less engaged counterparts. You want your sales team to have a clear understanding of their job responsibilities, how their performance impacts the growth of the company, and to feel engaged with their work.
Bring your sales team together for meetings, reviews, as well as celebrations. Take the time to get to know your employees on a personal level.
Find out what's important to them:
Are they starting a family?

Do they enjoy traveling?

Are they looking to purchase a home, car, or boat?

What are their favorite hobbies?

Do they have a favorite sports team?
Learn about their interests and build a relationship of trust so you have an impact on their motivation and level of engagement. You will have a better understanding of how to best align both their personal and professional goals.
Foster employee development, coach, and mentor
According to the Bureau of Labor Statistics, sales positions have a median tenure of 3.1 years. In order to really engage with your sales force, you need to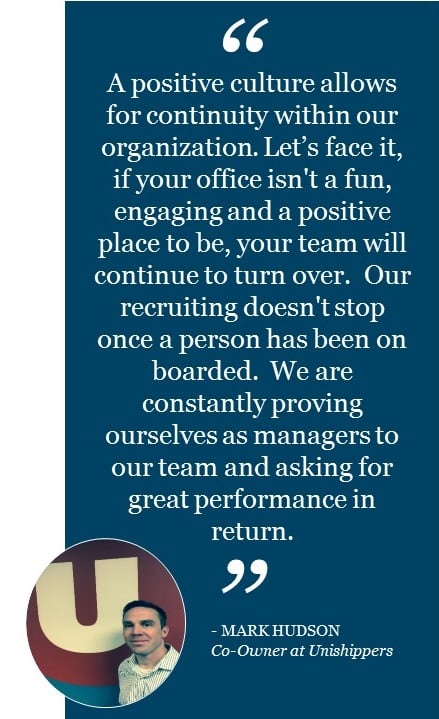 focus on employee development. Employees generally look for a new sales opportunity when they feel disengaged at work or don't feel as if there is any mobility within the company. Your top performers are going to want to advance their careers. Provide them that opportunity within your own company by continuously training and mentoring your employees.
5 tips to develop your sales team:
Allow sales representatives to take on additional projects and shadow other departments to learn more about the company

Provide the opportunity to meet with sales management for Q & A

Offer time in, or outside, the office to attend courses, workshops, or conferences

Provide monthly training exercises

As a manager, listen in on calls and attend off-site customer meetings with your sales reps
Reduce turnover and invest in management
A weak or disengaged sales culture can lead to employee turnover, costing a company 50-60% of the employee's annual salary (SHRM).
Employees don't leave companies, they leave management.
One of the main contributors of employee turnover is a lack of sales management. Top producers leave companies due to the breakdown in their relationship with their direct supervisor (70% of the time). Investing in your sales managers is equally as important as investing in the entire sales force. Set your sales team up for success by coaching, training, and mentoring your sales managers. Sales managers set the culture for his or her sales team.


Source: Unishippers
If you invest into the success of your sales culture, you will retain your top salespeople. Take the time to invest in your management team as well. Sales culture cannot operate in a vacuum. Sales culture needs to cascade throughout the organization. Business goals need to align with values, and more importantly a strong roadmap to get there.
Invest the time into making the right hire for your sales time and reduce employee turnover.

Share This Story, Choose Your Platform!
Contact Us for a Free Consultation
Tell us more about your business and how we can help.