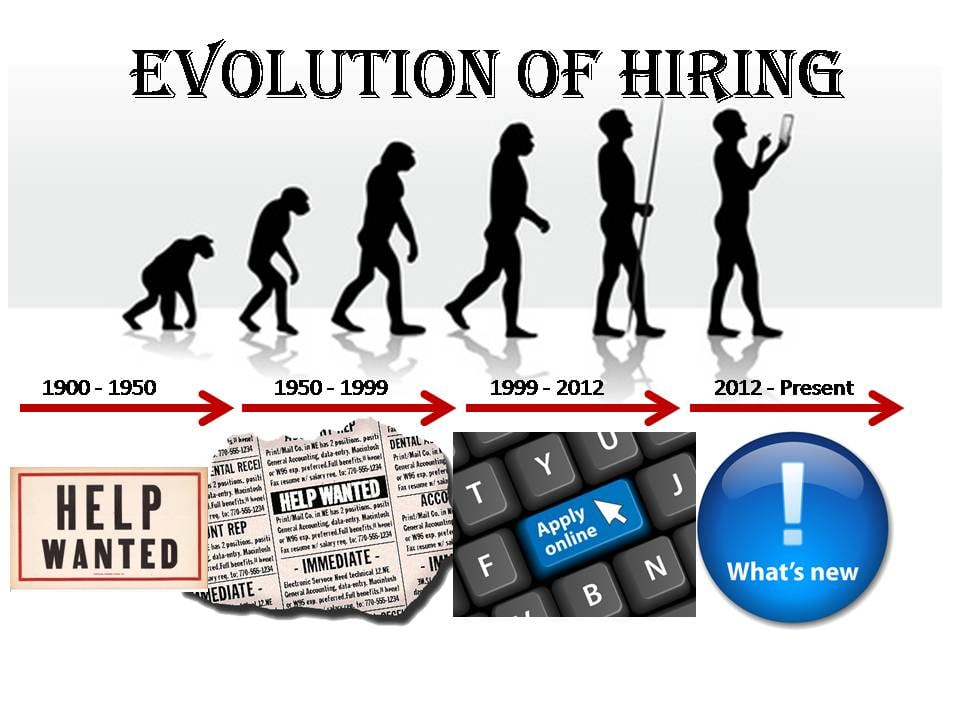 Looking back in time and reviewing the evolution of hiring employees has been very interesting. There are key fundamental hiring challenges that have plagued companies since the post industrial revolution that continue today. Companies of old and new face the same basic challenges. We discuss these challenges and speak to the modern day solutions to support hiring employees.
Hiring over the past 100 years has changed but not as much as you may think. Although the introduction of technology has changed the way we search for talented employees the challenges of hiring talent are still the same challenges faced 100 years ago. Whether the economy is booming or facing depression, employers always have the need to find qualified employees. As a result, there is a constant need to find new technology to help make hiring easier, faster and with more precision.
In the early 1900's window signage was used to drive foot traffic into companies. During the great depression there was an overwhelming response to open job positions. At that time the challenge was not finding potential employees but instead having the resource to sort through all of the candidates to find qualified employees. From this we learned that whether the economy is booming or in recession hiring people requires people, as they are a critical piece to the hiring process.
In the mid 1900's technology changed and newspaper circulation grew. In the 1950's the newspaper emerged as the modern instrument of mass communication. We saw mass-circulation metropolitan newspapers grow and the ability for companies to run national advertising campaigns. Companies now had a new resource to recruit more candidates on a much larger national scale. This led the way to the "Big Help Wanted" section and an opportunity for companies to reach more potential employees. Significant advertising budgets were invested in newspapers to attract talent.
In the 1980's the fax machine made it easy and common practice to send resumes via fax. Companies once again were tasked with the huge task to advertise, manage, qualify and interview and get top talent in front of hiring managers. This major effort and cost again was dependent on the people that were already employed by the corporation. In the end, the challenge remained the same, companies still needed people to hire people. The more you hire, the more people you need to assist in the hiring process.
At the turn of the century the game changed with the introduction of the Internet and job boards as the new preferred method to hire talent. Job boards played an intrinsic role in the hiring shift and millions of candidates uploaded resumes to the web. This gave job seekers the ability to post their resume for open view. Companies now had the opportunity to preview job seekers that were actively searching for new opportunities. At inception, this proved to be a wonderful way for companies to search for people. Unfortunately it did not lend the search for employed professionals who were not actively looking. Many people that posted a resume to a job board were not employed and did not face the risk of having their current employer find their resume posted online. Once again this required large human resource teams to sort through hundreds of resumes to find talent. As a result, job boards made it easier to find candidates but hiring managers still faced the challenge of finding qualified and relevant candidates. Technology alone is not enough to recruit talent.
Through this discovery process we have found that there are two key fundamental hiring challenges that corporations find when hiring. First, regardless of what tools are used to drive job seeker traffic to your company there is and will always be an incredible need for people. Hiring is difficult and there is no short cut. Secondly, hiring talent requires heavy lifting. To find talented employees don't expect that advertising alone will drive relevant traffic. Top talent needs to be found. They are not on job boards and not actively pursuing job postings, instead they confidentially search for career advancement. In order to find talent, people are always going to be required to get the job done.
At Treeline, we have studied and identified these challenges and have developed the solution. The solution is to help companies off load some of their resource costs by using a combination of technology and human interaction to drive traffic and introduce the company's opportunity to qualified candidates. There is an overabundance of data in the market and companies should not be spending valuable human resources on sifting through this data. They should focus on the newest solutions and techniques to find talent. This requires a hands-on approach and extension of your company to find talent. Treeline's Sourcing as a Service (SaaS) relies on human interaction to drive qualified traffic to your hiring managers.
We created our DADOMATCH software application to help companies reduce understaffed human resource departments and find qualified and interested candidates. We are not a job board. We have a 100% confidential community of professionals that do not want employers to know that they are searching for new opportunities. Talented, qualified and relationship-oriented professionals utilize our DADOMATCH technology to introduce hiring companies to the hard to find professionals. We work with clients as a technology-enabled dedicated resource. The combination of exceptional technology and best practice search techniques allows us to offer companies a cost-effective solution. Our revolutionary technology offers the right human capital solution for your company. We know that technology alone is not enough to recruit talent.

We understand all of the challenges of hiring talent and have developed this cost-effective solution to help evolve the search for qualified candidates.