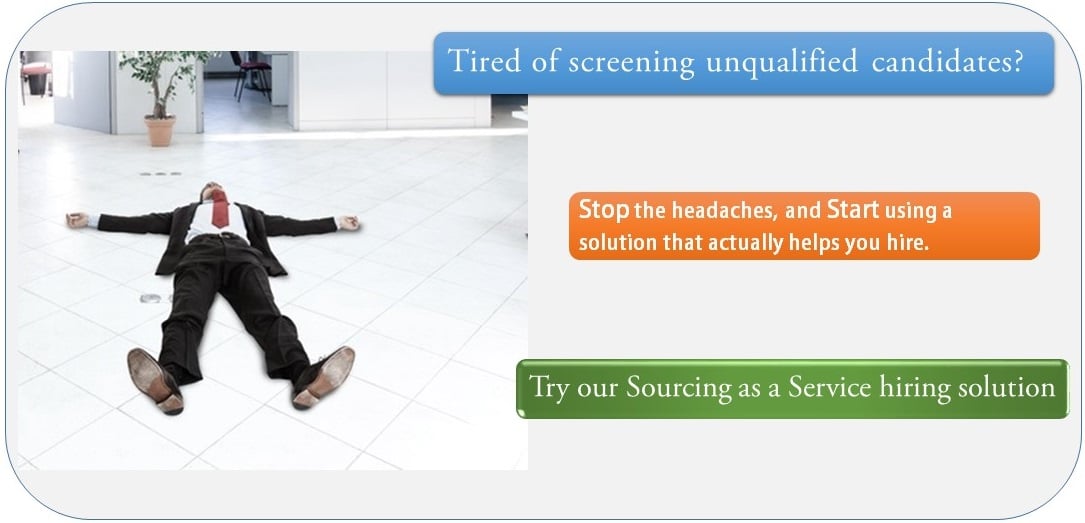 Sales people repeat effective practices and behaviors. Top performing sales people also have the ability to focus on the wide end of the funnel, on building pipeline, regardless of success converting revenue. The best do not succumb to complacency; in fact, they hunker down and become even more vigilant with pipeline building.
The same can be said of sales hiring managers with respect to the discipline of sourcing. Given hiring process and cycle times, it is critical to build pipelines at all times especially as success is achieved and hires are made.
Candidate pipeline building IS NOT EASY and, as a result, is the first practice to suffer as hires are made. Big Mistake! This leaves hiring managers unable to respond quickly the next time the Executive Committee and/or Board says, "Hire!"
Unfortunately, in many instances the traditional sourcing approaches are not sustainable on an on-going basis. The traditional approaches/challenges include:
Agency Recruiters – The contingency recruiting model is not built on "sourcing" – it's built on hiring;
Sourcing technologies – Fail to generate relevance and quickly get tuned out despite the low price;
Job Boards & Job Posts – Simply put, same problems different year;
Internal Recruiters – Same difficulty as using contingency agencies; unless specifically incentivized and compensated for prospective candidates, Recruiters must shift their focus to hot searches.
So, what's the solution? Sourcing must be consistent, effective, and affordable and none of the above align for success. Sales hiring managers are turning to Sourcing-as-a-Service by Treeline.
At Treeline we are experts at driving sales candidate traffic. We genuinely connect with our community of sales professionals who trust Treeline to deliver valuable information. We attract the attention of our community and introduce opportunities they might otherwise ignore. Plain and simply we drive traffic that no one else can. Clients automatically receive a DADOMATCH resume for each candidate that applies. The DADOMATCH resume provides an effective lens into a candidate's background, beyond their resume, which in turn helps them make better, faster decisions about which sales candidates to advance. Please click here to view a sample.
Treeline (www.treeline-inc.com) is a sales focused executive search firm that has worked with thousands of sales candidates and hiring managers over the past eleven years. Treeline was named for the outdoor adventurers who "climb above the Treeline" -the altitude beyond which trees can survive- for the rush, excitement, and challenge. Treeline is also the developer of DADOMATCH. DADOMATCH is a technology and service that helps sales hiring managers define, find and hire the perfect fit faster and with less cost.