Spring has sprung. Recent college graduates are looking for a career and you need to fill your Business Development (BDR)or Sales Development (SDR) role(s) before the top candidates are gone and your summer begins. Do you have a job opening for one or multiple BDRs/SDRs but are not getting the traffic you are looking for, either volume or quality? Have you thought about changing your job description or even job title? There are many ways to increase traffic to your job posts but for this blog, we are going to focus on the job description.
The actual job title – Our advice? Keep it simple!
The most searched job titles for sales are simple and maybe even downright generic, but they will get the traffic you want. The job title is not the place to show your company culture and pizzazz. It might show a candidate how unique you are but that's only if they find you…which they probably will not. Take it from us and keep it simple. Understand what the role is and choose a highly searched job title that will ensure high traffic volume to your role.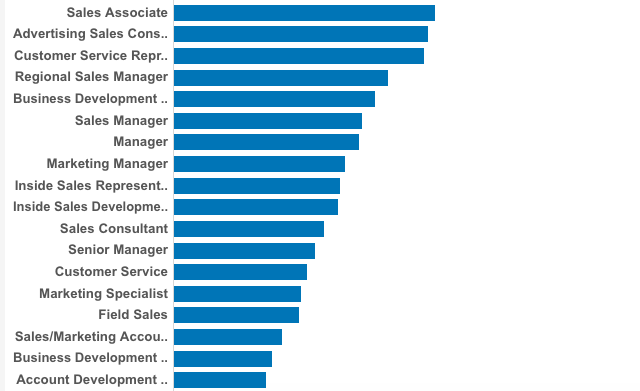 Many companies use titles such as Business Development Representative, Account Development Representative, Sales Development Representative, or Lead Development Representative. As you can see based on the most searched job titles (left), using Business Development Representative verses these other iterations, will drive more traffic to your post. A lot of these candidates may not even know what a BDR is, so don't abbreviate!
Job Description – Our advice? Focus on the candidate
Even though this is a description of your job, this is not about you. This is about getting top sales talent interested in your role. Focus on helping potential candidates learn what they will gain from working at your company, what your leadership looks like in terms of their success and if there are any opportunities for growth in their sales career.
If an entry level sales candidate can see potential in your company, they will be more likely to apply. Instead of providing them with a laundry list of tasks and responsibilities, provide them with a 'day in the life' example. Give an overview on not only the daily tasks, such as metrics and KPIs, but also what the growth path looks like for them if they are successful.
Get them intrigued, get them to apply. After they apply, you can have a more detailed conversation to see if they can hack it.
Requirements – Our Advice – Again, keep it simple!
This is the place to weed out some applicants and add a little meat to your post, but be careful not to weed too many people out in this section. You need to remember that these are typically going to be junior or entry level candidates, who may get scared off if they don't meet all of your requirements, and will therefore pass on applying in the first place.
Think of skill sets and activities your current team has that you would like to replicate. A lot of hiring managers like to see former student athletes, club presidents or candidates that worked to finance their education. These candidates have worked hard for something in the past and advertising that you're looking for someone like this, will drive more traffic than a more generic request for "good presentation skills" or something similar.
Company Culture/Description – Our advice? Get Competitive!
You are competing with every other entry level opportunity out there – not just sales. Why should a great candidate choose you? What is fun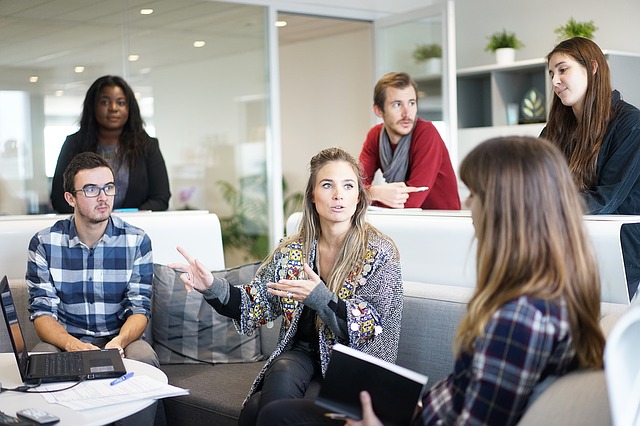 about you? Be unique, be exciting, be compelling. This is where you add your pizzazz! Share photos or links to videos that emphasize your culture, such as company outings, volunteer projects, employee testimonials, etc. These videos will show candidates how you are different.
And most importantly, don't forget about the perks! Do you offer unlimited vacation, flex time, great benefits, stock or equity, 401K, commuter benefits? Do you have a stocked snack kitchen, beer or cold-brew (or both!) on tap? Do you offer weekly/monthly happy hours or networking events? All of these things are extremely important to entry level candidates – they not only want a cool company to be apart of, they also want to feel like they are appreciated.
Are you still having trouble filling your funnel? Our advice? Get Help!
If you still find yourself struggling to fill your funnel, you may need some extra help. Entry level candidates can be tough to lock down for many reasons. For starters, it is a very competitive market. Your process may be taking too long or you may be holding your cards too close. Hiring managers that move with urgency and express interest are snagging the best candidates. You may be unsure in your candidate pool – Business Development Representatives can be more challenging to find than an experienced rep because you are trying to figure out if this individual is worth your time and money to hire and on-board without a proven track record.  
Summary
If you need additional resources to assist in your sales hiring efforts, please download our eBook on How to Drive Traffic to Your Job Post, check out our blog on How to Hire BDRs/SDRs, or contact Treeline. We are the experts in sales recruiting and offer a unique solution to assist you in finding top talent starting at $6,000.