How To Market Yourself When You're Unemployed
At one point or another, we have all found ourselves looking for a job.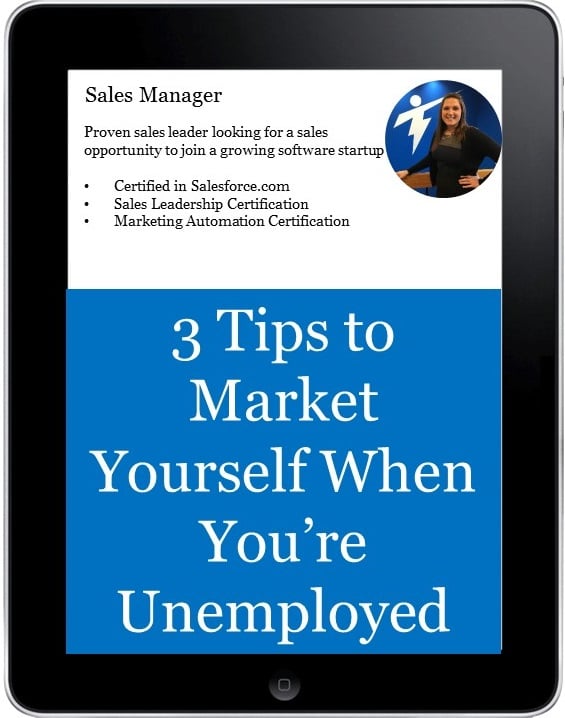 Maybe you're looking for your first job opportunity after graduating college, or you took some time off between jobs to travel, or put your career on pause to raise a family, or your company experienced organizational changes and entire departments were laid off, or you took time to care for a family member, or you realized that job and industry you were in weren't really right for you, or you went back to college for another degree.
Whatever the case may be, whether you decided to leave your former employer for professional or personal reasons, or other circumstances were at play, being unemployed can be scary.
It can also be frustrating and discouraging to submit your resume to several opportunities and never hear back from anyone.
So if you're unemployed, how do you market yourself to show hiring managers that you are a serious candidate that they should consider?
If you are unemployed, here are 3 quick techniques to market yourself and put opportunity back on your side.
1. Personal and Professional Development
Even if you are unemployed, you should be actively engaging in a variety of activities that strengthen your skill set.
There are too many job seeker's applying to the same jobs that you are with one click. If you follow that same approach, you will experience disappointing results.
Any easy way to stay engaged with the corporate world and gain relevant experience is by taking classes.
Employers look for different licenses or classes you've taken related to the job you're going for. Understanding what will set you apart by actually reading the company requirements will give you a better idea of what would appeal to the hiring manager. This will also help you tailor your resume and cover letter to the jobs you are applying to.
There are both free and affordable courses/certifications you can take online. For instance, if you're looking for a marketing job with a company that does Inbound Marketing, companies like HubSpot offer free online training to get you certified. Also, the Google Partners Program is free to help get you certified in Google AdWords, YouTube Advertising Certifications, and SEO.
If you're in sales, you can attend conferences that not only provide great learning sessions, but also give you the opportunity to attend a workshop and get certified. For example, Dreamforce is a conference held by Salesforce and they offer Salesforce.com certification. Hubspot, also offers free sales training courses.
Are you a veteran looking to harness selling skills? Sales organizations like Sales Hacker offer free sales training courses for veterans who are looking for a new opportunity.
If you are trying to learn to code or improve your coding ability, websites CodeAcademy offer free and paid classes.