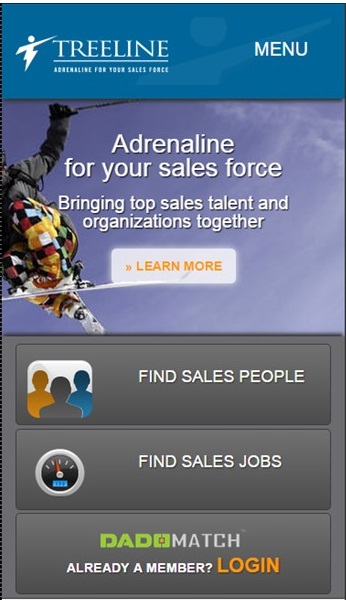 Great news, Treeline, Inc. is now mobile responsive. That means you are able to visit the Treeline, Inc. website on any mobile or tablet device wherever you.
Treeline Inc.'s DADOMATCH technology enables job seekers the ability to submit a resume and create a 3-D sales profile. DADOMATCH allows job seekers the ability to easily and confidentially search for new sales opportunities while partnering with Treeline to help them find a great sales role with some of the best companies out there.
According to an Indeed study 50% of job seekers are searching for jobs on their mobile devices, but that most sites are not mobile responsive allowing candidates the option to directly apply for the position.
Treeline wanted to get ahead of the curve and make it easy for candidates to find their next sales job and make it easy for clients to post jobs that reach an extensive sales audience.
Treeline's mobile responsive site is the next step in mobile and social recruiting.
As a mobile job seeker, you can easily express your interest in any sales role you want to apply for on the Treeline site.
If you do not have a Treeline DADOMATCH account, you can still apply as a new user and notify Treeline that you are interested in a sales role. You do this by selecting the Guest Apply button. We still highly recommend that you create a Treeline DADOMATCH account by uploading your resume and answering a few questions. You can do this on a desktop computer.
If you already have a Treeline DADOMATCH account, you can directly apply to a Treeline sales job on your mobile device by simply choosing the DADO User Apply button. Once you enter your login credentials you automatically apply to the position without leaving the Treeline site.
We also updated these changes on Treeline's desktop site. Now it is easier than ever to search and apply to Treeline's jobs.
Treeline is now powered by DADOMATCH. What are you waiting for? Check on Treeline, Inc. on your mobile devices.