Right now we are in the heart of the season for summer outings. And as scary as it is to think about, holiday parties will be right around the corner before we know it. Company outings are a great way to further develop a positive work culture and hang out with coworkers, but there are a few things to consider when attending your company outing.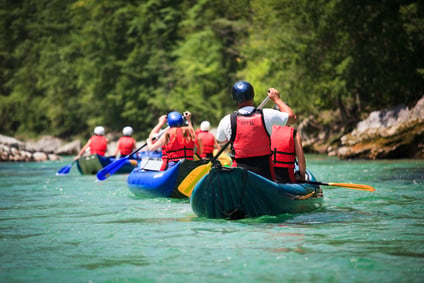 Attendance
Be sure to attend the event! Company outings are a great opportunity for team building in a fun environment. They are also a great chance to get to know your boss and coworkers a bit better. Even if the outing is not your first choice of a fun time or if you initially had other plans, it is still in your best interest to attend the outing and do so with an open mind and ready to have some fun.

Relax and have some fun
The company outing is a great chance to loosen up, have some fun and show your coworkers that you aren't a stick in the mud that they see between 9-5 each day. Sports, games and other activities are perfect and easy ways to break out of your shell, have some fun and possibly even become friends with a coworker that you would not have otherwise.
For a company outing you can leave your suit and business casual attire at home. However, you want to make sure you still look put-together. Your appearance will always make a difference to how people view you. Of course your choice of clothing may be depending on the weather and activities, but also make sure you are wearing appropriate attire.
Be careful of blurring lines with coworkers. I would recommend not doing it altogether. Even a company outing is still a work related environment so be sure not to do anything inappropriate that you wouldn't do at work. Remember you see these people on a daily basis in a professional manner.
Alcohol can be dangerous at a company outing. Moderation is of course the key and use your best judgment. It's important not to confuse your company outing with your typical social shenanigans you do outside of the office. Have fun but don't let alcohol convince you that a bad idea is a good idea. Not only do you want to remember the event but you also don't want your behavior to be the only thing your coworkers talk about after the outing. You have the power to paint a positive picture of yourself, so don't let alcohol be a major factor.
Don't spend the whole outing discussing work or on your phone doing business. 99% of the time, whatever it is, can wait. Leave it all behind for a few hours and just focus on having some fun. It is important to give yourself a break from work and come back refreshed for your next work day.
At Treeline, we recently had our summer outing. It was a great time to bond with the team and celebrate all of our hard work. It's important to keep a strong and positive work spirit and company outings are a great way to do that. So make sure you attend your next outing and remember to have fun!