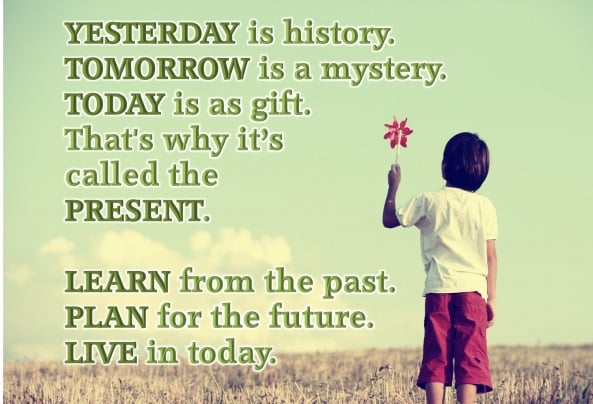 As salespeople we are always on the go and constantly working to help build and shape a company. We have to-do lists and goals we want to accomplish. Those goals are important, but I also wanted to write about how important it is to accomplish "the little things" in life that can make the difference and make work and life more enjoyable.
It is important to remember that life has so much to offer and that we can choose to be a bystander and let things happen and feel victimized or take control and make the difference. Ask yourself, what is important in your life? Is it money, career growth, or having a work-life balance or something else? Work can be hard and life can be busy, but I think it's important to have passion for both life and work.
Here are some ways to take action every day and work towards your goals:
1. Help others. Always help instead of walking away. This may seems obvious, but worth mentioning. Everyone is constantly buried in his or her cell phones and computers or too busy to take the time to help others. Life is a complication of details and it is the simplest things that often make the biggest difference. Not everything is in our control, but be aware of what you can control. Be willing to help a colleague, even if you yourself are very busy, hold the elevator doors for someone even if you are in a hurry, and have patience even if someone cuts you off during your daily commute. It may be cliché but helping others is a great way to feel good and stay positive.

Be present and take action. Understand that you are not always the only person in a room, but that never means you cannot make the difference. Don't get so caught up in your to-do list that you do not accomplish the task at hand. Manage your day in a way that you feel good leaving work at the office. Be proactive, and get involved with projects at work. Don't have the mentality that you're so busy that you can participate in something. Don't think "why me?!" but approach each task with positivity and know it is okay to ask for help. It's great to have big picture goals, but it's what you do on the daily basis that makes the difference, so don't count the days but make the days count.

Enjoy the journey. Avoid falling into monotonous routines and pride yourself on appreciating the simpler things in life. Even if that means something as simple as driving a different route to work throughout the week or eating lunch with a colleague you don't really know. Understand that there will be really awesome days and sometimes not so great days, but that doesn't mean that there isn't something good in every day. Don't let life pass you by and have perspective. Your goals will help you achieve what you want in life, and you can choose to be a bystander or someone who takes action. Yes, there will be obstacles along the way, but no nothing is a dead end. Enjoy the speed bumps and be aware of your surroundings, and great things will happen.
There will be plenty of curveballs in life, so choose not to be a bystander and let things just happen. Life is busy and yes stress can feel overwhelming, but if you can be conscientious of your surroundings and allow yourself to pull away from thinking "this is just the way it is", you may find yourself realizing that life is in fact happening and if you open your eyes you may find that it is really great!