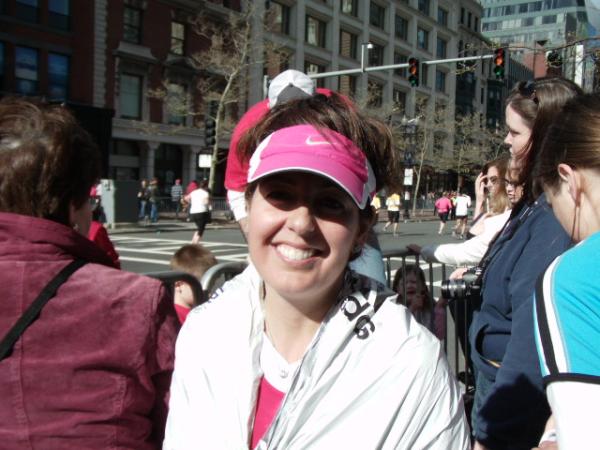 Click Here to watch the video of Katie after completing the Boston Marathon
Katie Johnson is Treeline, Inc's Public Relations Representative. This was her second time completing the Boston Marathon. We are very proud to have her on the Treeline Team. Her determination, motivation, and competitive nature inspires us to work hard and strive to be the best executive sales search firm in the nation.
Katie finished the race in 5 hours 1 minute, with an 11 minute 28 second pace.
Katie's motivation for running the Boston Marathon:
"I had a wonderful experience training for and completing the 2009 Boston Marathon as a member of Team Eye & Ear. Thank you again for helping me raise almost $6,000 for the Infirmary! These funds will help find treatments and cures for diseases of the retina.
During the spring and summer, I thought a lot about joining Team Eye & Ear again, but wasn't 100% sure until I attended MEEI's 'Light Up the Night' dinner in November. At this dinner, Drs. Evangelos S. Gragoudas and Joan W. Miller received the Reynolds Society Achievement Award in Research. It was their pioneering research that led to the first-ever treatment for the wet form of Macular Degeneration. These two doctors laid the foundation for subsequent successful treatments that have saved and restored the vision of more than a million people worldwide. Including mine. I made my decision that night. I am thrilled to be part of Team Eye & Ear once again."