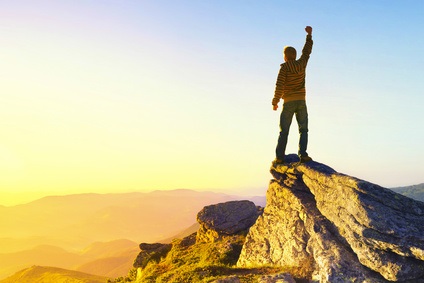 It is critical for companies to develop employees. Your company's success generally rides on the success of your sales team. Not every sales professional will be an A player and top producer, but as managers it is your job to help your team get on track. That being said, it is also up to the sales representatives to decide whether or not they want to be a top producer and that means never settling for average or "good enough." In sales, career growth is based on a track record of success. Top producers make the most money and find the best opportunities, so how do you go from an average salesperson to an exceptional salesperson?
It is my finding and belief that top talent is not inherit and that the most successful sales professionals are that ones who followed the most basic ideas behind how to be successful. Basic does not mean easy and if you want to be a master of your own sales success you must follow these six principles.
1. Commit
Commit to your career. Make a conscious decision and hold yourself accountable. Take your future seriously and know that by committing to your career you will build a successful future. In the book "Outliers" author Malcolm Gladwell talks about how it takes roughly 10,000 hours of practice to achieve mastery in any field. The most elite violinists began playing at roughly age 5 and by the age of 20 they had practiced 10,000 hours while the less capable performers had only 4,000 hours of practice. Bill Gates became a billionaire not because he dropped out of college to build a company but because he spent 10,000 hours in the computer lab at the University of Washington. If you commit to excellence in your career expect that by working 40 hours per week you will achieve 10,000 hours in 5 years. The more committed you are the more hours and expertise you will build to become an exceptional sales professional.
2. Work Harder
It seems obvious right? That's because everyone thinks they are a hard worker. Understand and expect that 40 hours per week may not be enough. If sales excellence is a goal of yours be prepared to work hard for it. If you want it bad enough then you can do it. You may have to be the first one to the office every day and the last one to leave. You will need to be resilient and prepared to work through burnout and rejection. Working hard is about both physical and mental toughness. If you want to win you must prepare yourself for a future of early mornings and late nights. You will never look back on life and say I was too successful.
3.Be present
Just showing up at the office is not being present. To be present you must be engaged every minute of every day. Engage with your colleagues, your customers and your manager. Be in the know, and be alert to what is happening around you. To be present you must get out of your office or cube and listen to what is happening in your company.
4. Listen and Learn
Be a student of your craft and continue to learn about your business. Set goals to better yourself intellectually by reading books, trade news and company briefs etc. It takes years to gain credibility to become an industry expert. More importantly listen to your peers. Seek out the top producers in your field and ask for their time. Learn from others and listen to what they have done to become top producers in their companies and in their field.
5. Subtleties Matter
The small subtleties matter in sales and separate the good from the great. This is a very difficult thing to identify and at times challenging to understand. If you put two sales professionals next to each other and listen to them you may not hear the different subtleties they use. The dialog may sound the same but it in fact is very different. It is about tone, delivery, a strong understanding of your prospect and their personality traits and much more. The small subtleties make all the difference and the only way to learn this is through observation and advice.
6. Sacrifice
Great success requires sacrifice. Sacrifice comes in many forms include personal, financial and professional. There is no way around it. If you want to be an exceptional sales professional be prepared to make sacrifices to do so.
The road to becoming an exceptional sales professional is a tough one. But anything worth fighting for is difficult and requires effort. How bad do you want it?