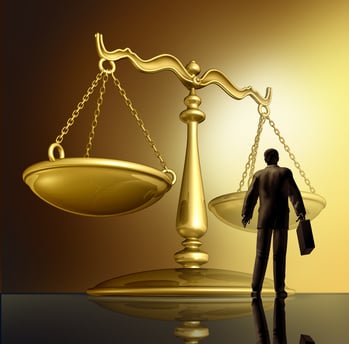 A job search can be a lengthy, stressful and often time-consuming process. It can actually be a full-time job effort, especially if you are currently working full-time.
However, if you have conducted a productive search and interviewed successfully with multiple companies hopefully you will have the good fortune to have received multiple job offers. At this stage you would think all the hard work is over but deciding which offer to accept can be just as difficult as the search itself. I found myself in this position not too long ago. I had two similar offers and I had to make the tough decision as to which opportunity would be the best fit for me.
Money is obviously an important factor to consider but by no means should it be the only factor playing into the decision. I believe that the most relevant factor to consider when choosing between job offers is how happy you can picture yourself at each potential company. No matter how much money a company is offering you, if you do not see yourself enjoying the new position then it would be a mistake to take the job. Of course money is important, we all need to pay our bills, but it is important to land at a company where you can see yourself working for many years in order to avoid being looked at as a job hopper. If you do not enjoy the place you work, the odds are that you will not last very long there. Be sure to meet with at least a few people at each company you are considering as it is essential to get a feel for whom you will be working and interacting with on a daily basis.
The next important aspect to consider is how much you can learn at each new opportunity. A great salesperson will seek out a challenging opportunity. It is crucial in your new position to have the opportunity to learn and grow both as a professional and as an individual. This played a big factor for me when I chose to work for Treeline. Here at Treeline I am a recruiter but I run a split desk, which means that I not only recruit candidates but I am also very involved in the sales aspect of the job as an account manager. I took the job that had more responsibility because I knew it would accelerate my professional growth and make me a stronger and more confident salesperson.
I am very happy with the decision I made in accepting my offer to work at Treeline because I knew what was important to me and I stuck by it. Hopefully if you weigh the appropriate factors when choosing between job offers you will make the best decision for yourself as a person and a professional.