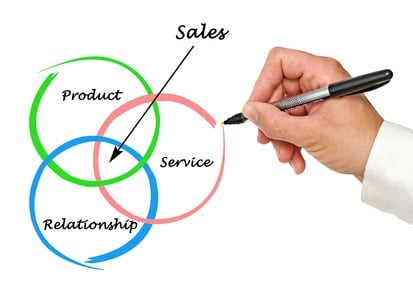 You know how some people claim to be a "people's person"? Well, I have found that being a people's person is a great and difficult skill to foster. Unlike dealing with products and technology, being a people's person involves dealing with a range of personalities every day. But I have also found that the truly gifted people's person has harnessed the ability to be a successful customer service rep and a salesperson.
And although a career in sales and a career in customer service are different, both are challenging and both have transferable skills. Truthfully, almost every role will require some customer service aspect, meaning that your role will affect the outcome of a consumer's experience, both good and bad.
Looking back on my work experiences, I have found that working directly with customers has helped prepare me for a career in sales. As a Customer Service Rep, you deal with the constant notion that the "customer is always right" and that you should have that mentality to promote a reputable brand and grow a business. As a Sales Consultant, it's not only having that mentality, but first and foremost understanding your customer's need. In order to make a sale and provide the highest quality of customer service, you have to qualify your customer on their need and be able to add value by offering a solution that meets that need. I have personally found that by listening to my clients and candidates and building a trusting relationship with them, I not only win their business one-time, but ultimately build an ongoing partnership with them.
No one actually ever wants to feel like they are being sold, but rather your customer wants to feel secure in their decision to purchase and wants to see you as a trusting advisor. When you're able to provide the highest level of customer satisfaction, you ultimately gain customer retention. You want to be able to overcome the stereotype of the "typical salesperson" and want to be able to provide a product or service that adds value to the customer.
I can't deny that working in customer service can have its challenges and sometimes you may find yourself constantly on the defensive, dealing with frustrated customers. You can find yourself constantly apologizing for their frustrations, looking for ways to rectify the issue even though you were not the one who initially sold them the product or service. You are kind of like the final line of defense that can either win back a customer, improving their experience or you may unfortunately be unable to win back their business by the time they get to you. And I can't say that it is easy to appease a customer who is yelling at you on the other side of the phone.
Working in customer service helped me have thick skin and an understanding of people, helping me pursue a career in sales. As a Sales Consultant, I must be proactive and hunt for business and be involved throughout the entire buying process. I am much more apt to speak in the affirmative and create positive relationships with candidates and clients, rather than speaking in an apologetic tone. And it is a great feeling to close a deal, knowing that you have been able to help someone with their job search and help a company hire.
So even though claiming that you're a "people's person" may sound generic, it is actually a critical skill in being able to be successful in your career. It's not always easy to admit that the customer is always right, but being able to communicate effectively and build trust is the best way to grow your business. I've learned a lot from my customer service days and I still incorporate those skills today as a Sales Consultant, and am always looking to improve my communication skills, because I am in fact a "people's person."