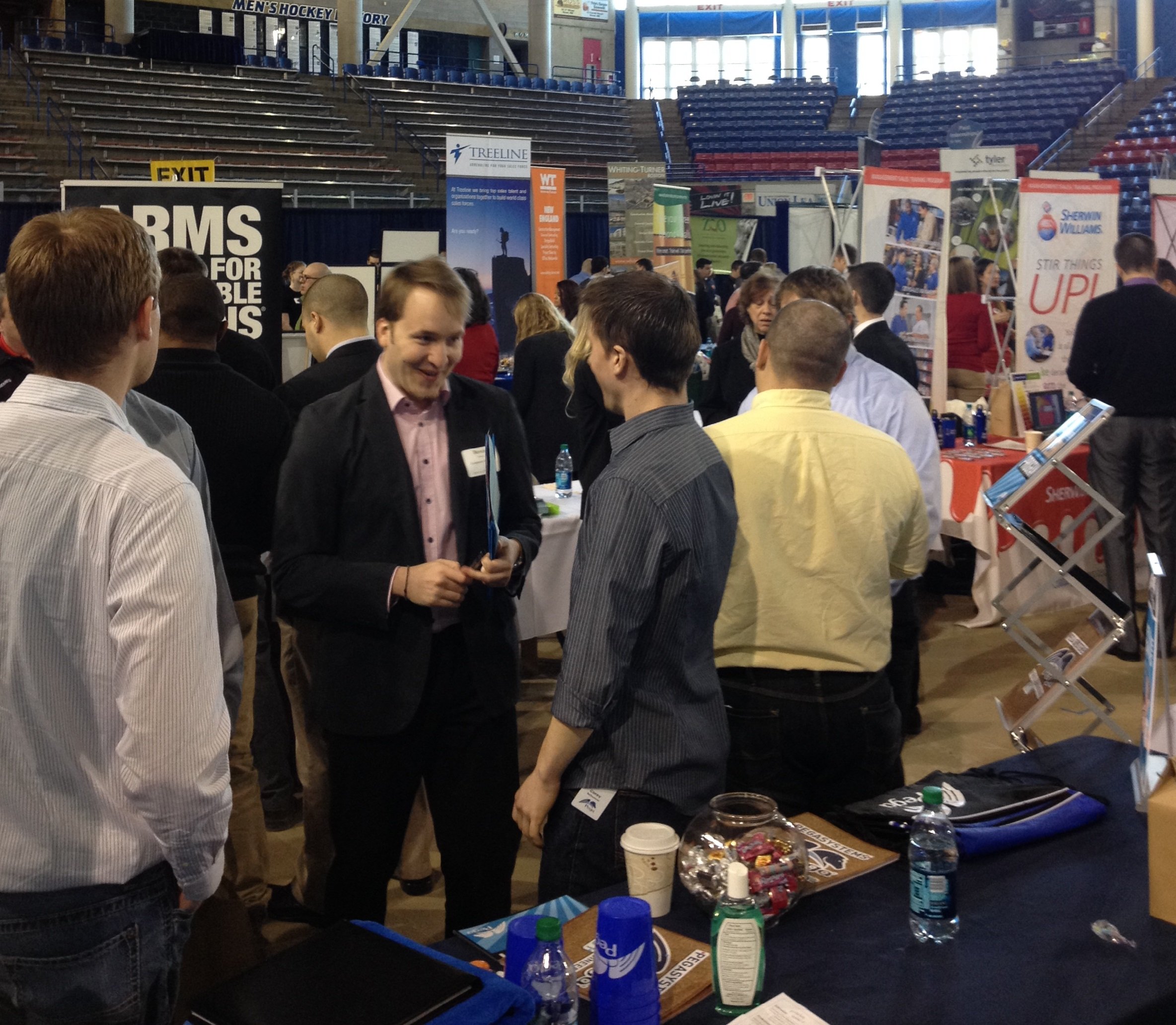 Being a senior in college is both exciting and nerve racking. It is a time to celebrate your college career and take advantage of all the opportunities before you and cherish time on campus with your friends. It is also the time you are considering career opportunities and life after college in what others refer to as "the real world."
It can be a scary time, trying to figure out a career and you may feel pressure about really needing a job, but you wonder who is going to hire a recent college grad?! Trust me, I know. I've been there myself, but I wanted to take some time and explain how you can increase your chances of getting hired after college by taking advantage of the college career fairs that take place on your campus.
Career fairs are a great free resource to students that allow you to have access to hundreds of companies all in one place. It is a great way to meet representatives from each company and make a positive and lasting impression. By following these 3 basic steps, you can effectively utilize the college career fair and increase your chances of being hired after graduation.
1. Have A Strategy
First off, put the career fair in your calendar and know what day and time it is occurring. Your college has a career services page on their website, so make sure you visit it and check out the companies who are attending before-hand. Visit the company websites and check out their job listings to see if there is anything that interests you. This will allow you to do your research on which companies you definitely want to talk to as well as highlighting some other companies you may have an interest in learning more about. Be open-minded when considering companies because you may just be surprised as to what could be a potential fit for you. And remember, there are more than 100 hundred companies usually in attendance and usually 1,000+ students attending so you want to use your time wisely, realizing some conversations with company reps may be short and some a few may be longer. It's important to note that the company reps want to talk to you and recruit you. That is why they are attending the college career fair. They are looking for entry-level talent so use that to your advantage!

2. Be Prepared
I cannot emphasize preparation enough, and when I say preparation I mean printing several hard copies of your resume and wearing appropriate professional attire. Yes, you're a student and sweat pants are generally accepted, but when attending the career fair you should dress to impress. That means shine the up the shoes, brush the hair and wear your best suit. Some companies may have a casual attire, but you should always look to make a great first impression and go the extra mile, trust me it goes a long way. Career fairs are a very transactional setting since there is usually a large audience in attendance, but make sure you standout. When you visit the company booths on the list you had mapped out, make sure you approach the company reps with a big smile, firm handshake and make eye contact. Introduce yourself and let them know your interested in their company. Try to connect with the person by first building rapport and definitely have questions prepared. Ask about the company, culture, growth within the organization and if there is anything in particular you should know about the company. These are small subtleties that make a huge difference to help make you memorable in the sea of faces.
3. Follow-up
For every booth you visit and especially for the ones you really enjoyed speaking with, ask for their business cards. This a great way to not only show you're interested in the company, but it is also a great way to establish a point of contact within that organization. And once receiving their business card, make sure you send a nice follow-up email to them, thanking them for their time and once again expressing your interest in pursuing opportunities with the company. This seems simple enough, but I can tell you from experience that not everyone does this. By taking the time to be persistent and follow up regarding an opportunity can actually make the difference between being considered for a role and being overlooked. Even if they don't have the right opportunity for you right after graduation they are still a great resource to reach out to from time-to-time until there is a opportunity that you could be a good fit for.
Career fairs are a great way to network with several different industry professionals and really start to feel out what you may want to pursue after college. By following these three basic steps you can help increase your chances of being one step closer to landing that dream job. It's important not to put too much pressure on yourself, but to make it a enjoyable experience. The job search can be tough and time consuming so make sure you use free resources like career fairs to your advantage and go get that job!