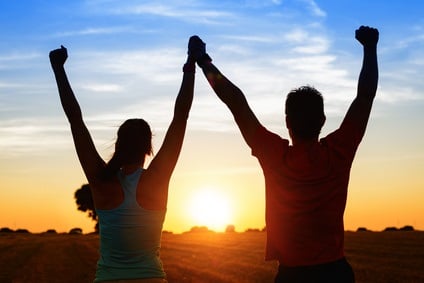 Being in sales is no easy task. Our days do not normally consist of the normal 9am-5pm clock-in and clock-out. We are constantly working to sign on new business, add value to our consumers and ultimately drive revenue. With that being said, sales is unique in nature and is not for everyone. I have found that it is the little things that separate the "good" sales reps from the "great" sales reps.
Below I have listed 5 things that all successful and "great" salespeople do.
They Are Positive. Sales is tough and challenging, but let's be honest, that's why we chose the rewarding career. We deal with rejection on a daily basis, so believe it or not positivity is critical. When you stay positive, work is fun. You never equate a bad day with failure, but rather chase the close that much harder. And your positivity is not to be not confused with being unrealistic. Being positive does not mean you are naïve, but rather you inspire and invigorate those around you.
They Are Organized. I have found that it is challenging to be successful without being organized, especially when the sales environment can turn into chaos. From organizing leads, appointments and tasks, having a plan is key. Organization allows you to stay on top of your job and encourages clear and concise work. Moreover, when you are organized, you limit the number of distractions that can cause you to become sidetracked. You have a to-do list, a strategy around how you are going to accomplish your goals and metrics to measure your progress and success. You don't leave much to a guessing game, but prioritize your time and efforts.
They Are Goal-Oriented. Be an achiever. Have goals and not just the big picture goals, but the smaller goals that you set out to accomplish each day to help you hit your ultimate goal. Set the bar high, but have realistic expectations. Have a process around how you will achieve your goals and track your success. Having goals creates a purpose and gives direction. Goals set the pace for your work and define productivity, so you can leave work feeling productive and with a sense of achievement. And don't just check off your tasks when accomplished, always do "one more," meaning if you called all ten leads for the day, call one more before leaving the office. It's that one more thing that you may do each day that sets you apart from the pack.
They Individualize. Understand not only your company's product or service, but know your audience. You need to be able to understand your customer's need and be able to offer a unique solution that adds value. Don't expect all of your clients to be the same and be cookie cutter, one size does not fit all. Be sure to tailor your approach to each prospect and customer and qualify them on their need or pain point. Be consultative and build relationships, no one wants to feel as if they are being "sold" to.
They WOO. Win Others Over. You may know your product and service like the back of your hand, but keep in mind people buy from people they like. The sales process can feel like the "wooing" process of a relationship. Build rapport with your customers and look for connections to help break the ice. Part of the sales process is trust. People want to buy from people and a company that they like and trust. They want to know there is a person behind the technology. Competitive and successful sales people understand this concept and use it to their advantage. They build relationships and understand more goes into winning the sale than just a sales pitch. The initial sale and close should not be the end of the relationship. You want to maintain loyal customers as you look grow business.
I have found that these 5 skills have separated the "good" sales reps from the "great" sales reps. And even though you could argue that some people are just born with the natural knack for being a sales rep, by harnessing and honing these skills you may find that success is much more attainable. Set out to accomplish small things in a great way and look to improve and challenge yourself on a daily basis. Never take your foot off the gas pedal and if you want to find success, you need to go above and beyond. Don't settle for average. By doing "one more" thing each day, you may find it makes a world of difference.