Building a High-Performing Sales Culture of Success
Salespeople are the revenue engine of your company. Empty territories lead to missed quotas which equates to lost revenue.
You need top sales performers and you need a fast and effective way to identify top sales talent.
You need salespeople who possess the sales characteristics that best align with your selling environment. You also need people who are the right culture fit for your company.
Here are 2 steps to recruit top salespeople and build a sales culture of success:
1. Build a Flexible Blueprint
Define the sales job you're hiring for
Hiring your perfect fit starts with defining your perfect fit. Just as you define your corporate culture, you need to define your open sales position.
This includes:
Job title
Responsibilities
Requirements
Territory/accounts
Who they are selling into
Who they report to
Average deal size
Quota and average sales cycle
Commission structure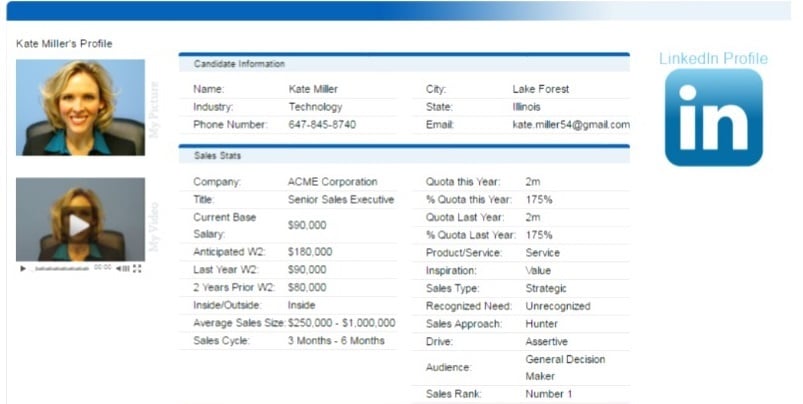 Work with the sales executive team and managers to get a clear picture of the sales characteristics noted above. Before you even begin recruiting, you need to have clear expectations around the role to help you understand who you should be looking for.
Understand the key sales characteristics required
Companies often fail to hire when they misalign the sales characteristics required for their particular selling environment (your sales culture).
Each type of sales role requires certain sales characteristics that enable your new hires to be successful in the role. There are a few sales characteristics hiring managers should keep in mind regarding their sales job and the sales candidates they are looking for. This is deeply connected to your sales culture and is something that should be considered.
Ask yourself, does this sales job require:
A transactional or strategic selling approach?
Inside or outside sales experience?
Sold into general decision makers or C-level decision makers?
Sold a product or service?
Hunting or farming sales experience?
2. Give Your Recruiting Team the Support They Need
Culture is a business objective, not just an HR objective.
In order to hire the best sales talent, sales leadership need to be involved throughout the process. There needs to be a process, budget, and an actionable timeframe.
Time and budget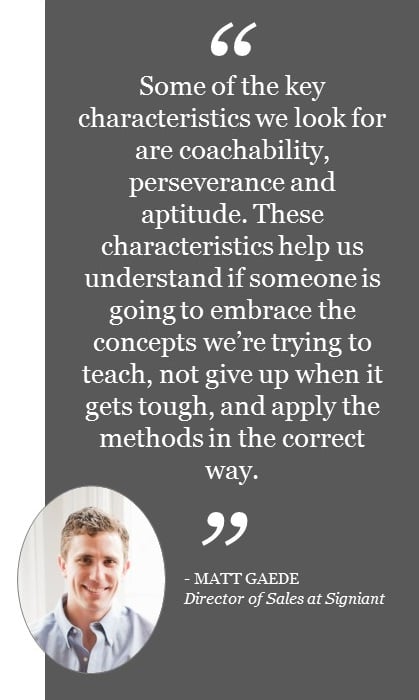 What is your budget and where will you invest it?
Hiring talented sales professionals will cost you both time and money, and your recruiting team needs both. Understand what your budget looks like and where you can allocate those resources.
Where will you invest your budget?
Job boards
Social media advertising
Career fairs
Resume databases
Offering employee referral incentives
Partnering with a sales-exclusive search firm
Determine which channel provides both the largest quantity of applicants and the quality of applicants. Adjust your recruiting strategy as needed.
Leadership and process
Before you start interviewing candidates, know which of your team members are involved in the process and how many steps that process consists of. You want to be mindful of this and have alignment to make the best hiring decision without slowing down the process. It's not a bad idea to have this process in writing so that everyone involved can clearly see each step.
An example of this is:
Phone screen (HR Manager)
Face-to-face interview with the hiring manager and team members
Face-to-face interview with the VP of Sales
Offer
Want to build a high-performing sales culture of success?
Sales managers, CEOs, recruiters, human resources directors, and talent acquisition leaders share 7 steps to build a high-performing sales culture of success.