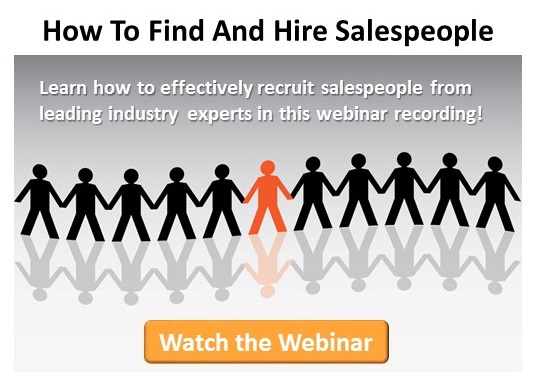 Watch this webinar on How To Find And Hire Salespeople.
Hiring managers face 2 obstacles when hiring talented salespeople:
1. They don't know where to find and recruit salespeople and end up spending either too much time or money without hiring.
2. They don't have a hiring process in place to bring on sales talent to their team. They often lose a candidate in final stages.
Hiring the right salesperson is essential to a company's growth and success. You need to spend money and time on the resources to help you, but which one is more important?
In this webinar:
Learn that recruiting is a sales and metrics driven activity
Learn the KPIs that industry experts use to hire top sales talent

Learn the best tactics to find and hire salespeople

Find out why your job posting isn't driving job seeker traffic

Find out why you may be losing out on sales talent to your competition.

Learn about what hiring processes are most effective

Develop a consistent strategy to successfuly recruit your sales team
Listen Now. Complete the form to access the webinar and slides.