Find Out What the Buzz is About
Treeline's monthly newsletter includes content written by sales professionals for sales professionals. Stay up-to-date with tips and the latest trends in the industry.
Join the community and subscribe today!
Sign up
April 2018 - 20 Best Sales Career Tips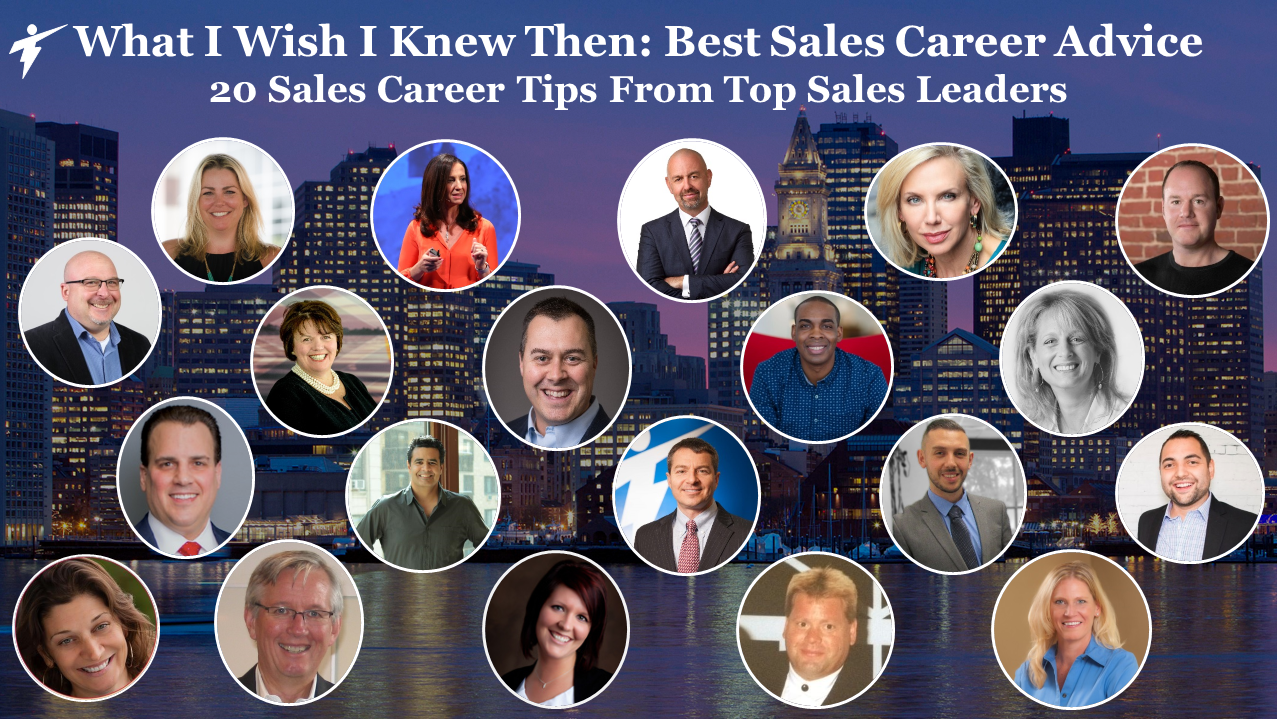 I think we often forget that all great sales leaders and business owners started off somewhere, just like you and I.
To help you master your sales career, we asked top sales leaders to share some of the best advice that they wish they had received when they first started to build their sales careers.
What advice do you wish you received when you first started your sales career?

What do you know now that you wish you knew then?

What sales career tips and advice do you offer to all new sales reps?
Archived Newsletters
March 2018 - How to Land a Sales Job in 2018
February 2018 - 36 Questions to Ask in a Sales Job Interview
January 2018 - My Favorite Interview Question Sales Candidates Ask Me in the Job Interview
December 2017 - Things Salespeople Say
November 2017 - 30 Ways to Ruin an Interview in 30 Seconds
October 2017 - An Interview Horrow Story
September 2017 - Highest-Paying Sales Jobs in Boston Right Now
August 2017 - What I Wish I Knew Then: 20 Best Sales Career Tips
July 2017 - What Hiring Managers Look For
June 2017 - Top 50 Sales Influencers You Need to Follow
May 2017 - 30 Ways to Ruin an Interview in 30 Seconds
April 2017 - The #1 Thing Hiring Managers Look For in a Sales Candidate
March 2017 - 5 Sales Lessons From 5 Boston Sports Legends
February 2017 - How to Fall in Love with Your Job All Over Again
January 2017 - 5 Tips to Negotiate Salary
December 2016 - Things Salespeople Say
November 2016 - Top 18 Do's and Don'ts For Surviving Your Company Holiday Party
October 2016 - 30 Ways to Ruin an Interview in 30 Seconds
September 2016 - Why Everyone Should Start Their Career as a Sales Development Representative
August 2016 - Going for the Gold: How to Be a Sales Olympian
July 2016 - 6 Signs It's Time to Look for a New Job
June 2016 - 14 Ways to Lose a Deal
May 2016 - How to Negotiate Salary: 5 Tips You Need to Know
April 2016 - The #1 Thing Hiring Managers Look for in a Sales Candidate
March 2016 - 6 Signs It's Time To Look For A New Job
February 2016 - 3 Reason's You Should Drop Your New Year's Resolution
January 2016 - How to Crush the First 90 Days at Your New Sales Job
December 2015 - Are Company Reviews More Helpful or Harmful in the Job Search
November 2015 - 3 Reasons You Should Look For a Job in Q4
October 2015 - Top 10 Interview Questions Sales Managers Ask
September 2015 - This is Why I Didn't Hire You
August 2015 - How to Negotiate Salary: 5 Tips You Need to Know
July 2015 - 5 Sales Training Techniques to Create Top Performers in the Summer
June 2015 - 7 Deadly Sins of Sales Hiring
May 2015 - 10 Rules for Growing A Small Business
April 2015 - Sales- It's Not a Sprint, It's a Marathon
March 2015 - The Best Way to Succeed is to Fail
February 2015 - 5 Ways To Hire Sales Talent Before The Competition
January 2015 - 3 New Year's Resolutions To Advance Your Career
December 2014 - How To Manage Your Fantasy Football Team Like Jack Welch
November 2014 - Hire For Character, Train For Skill
October 2014 - 5 Reasons Your Resume Is Actually Hurting Your Job Search
September 2014 - This Is Why I Didn't Hire You
August 2014 - How To Get Out Of A Sales Slump
July 2014 - How To Drive Traffic To Your Job Post
June 2014 - 3 Reasons Your Sales Team Is Failing
May 2014 - 3 Signs That A Prospect Is Bad For Business
April 2014 - 3 Reasons Why Sales Jobs are THE Jobs
March 2014 - How To Avoid Unrealistic Hiring Expectations
February 2014 - Is The Gen Y/Millenial Generation Ready To Manage?
January 2014 - 3 Reasons Why You Haven't Landed The Job
December 2013 - 5 Ways To Boost Your Resume And Build Social Brand
November 2013 - Hiring Top Talent Is Tough
October 2013 - The Evolution of Hiring
September 2013- 4 Steps To Making LinkedIn The Ultimate Landing Page For Your Job Search
August 2013 - Can Personality Testing Ensure A Good Hire?
July 2013 - Attracting New Business, Who's Referring Your Company?
June 2013- Treeline Launches New Website
May 2013 - Sales Managers, What Motivates You?
April 2013 - 5 Tips to Build an Inside Sales Force
March 2013 - Source Your Way to Success
February 2013 - Endurance: Climb Above the Treeline
Janaury 2013 - 10 Core Values For Building A Positive Sales Culture
December 2012 - How to Put the Wind Back in Your Sales
November 2012 - Job Search and Interview Misconceptions
October 2012 - Five Steps to a Sales Compensation Plan That Works
September 2012 - Don't let the glass door hit you in the backside!
August 2012 - Gum Disease, Heart Disease and Sales Excellence . . .
July 2012 - The Inspiration of Fear